It's understandable to be afraid to go to Australia, The country is, after all, the home of many wild animals, from the creepiest of crawlies to the most poisonous of snakes. But if you're refusing to go "Down Under" solely for this reason, you missing out on a great adventure! Australia is way more than just a haven for hiking trails, and their famous dangerous and exotic animals.
It's a booming country that's equal in both natural wonders and modern infrastructures. They also boast some of the most beautiful and amazing sites you'll never see anywhere else. It's a shame to miss all that just because you're afraid of a few spiders.
Perhaps, if you knew that kind of natural treasures this unique country holds, it will push you to go to the land "Down Under" to see them for yourself. Most of their grandest tourist sites are actually national parks, which make them much safer to visit than you might realize. Here are just some of them to hopefully inspire you to book a trip.
Port Campbell National Park
You might think that since this is a national park, it'll just be a few mountains with rangers strolling about to keep things in check. This, however, isn't the case for Port Campbell National Park.
This park actually consists of fascinating rock formations with a stunning shore. It's a great destination to have a good hike and see the natural wonders of what might be the edge of the world. At the same time, if you're looking to have some seaside fun, this is also a great place to swim under the sun. If you're lucky, you might even get to see an old shipwreck!
Freycinet National Park
Another seaside national park that is truly a must-visit is the Freycinet National Park in Tasmania. This is where Wineglass Bay is located, often cited as one of the best beaches in the entire world.
Those who do think that are not wrong, as the water is so clear that you can see your reflection, the sand is incredibly white, and there's little to no trash in sight. Beyond the bay, however, are various rock formations and mountains just waiting to be hiked and explored. The best time to go here is when it's nearing sunset, as the entire park becomes a beautiful shade of dusky orange.
Nambung National Park
If you're one to marvel at the interesting rock formation, look no further than Nambung National Park. While the park itself is known to many as a great beach, the vast area of dry land just beyond the shore consists of interesting rock structures that were developed over 3.6 billion years ago.
It's one of the oldest as well as most peculiar sites available to the public today. The formations are abundant here, varying in size and shape, with each bearing a unique structure that's different from the next. You should also look out for various animals out here too, such as the red kangaroo and a few dingoes.
Great Otway National Park
The Great Otway National Park in Victoria is a forested piece of land that's worth exploring. Unlike most of the national parks 'Down Under,' this is one of the select few that still comprises of lush greeneries, as well as various flora and fauna.
The famous koala bear is said to live here, which you can find by Kennet River area climbing up the various eucalyptus trees. Be sure not to frighten them, though, as the ones living here are untamed. If you're lucky, you might also get to see a migration of whales and dolphins from the main road of the national park.
Great Sandy National Park
The name alone should already excite you. The Great Sandy Park is a large patch of sandy shores on Fraser Island, the largest sand island in the whole world. Despite its name, however, this isn't exactly just a desert because there are still some areas within the park and the island that are forested.
It also houses a few swamps and marches within such forests, many of which houses all sorts of different wildlife creatures. Still, the main attractions of this national park are the beaches, and they're some of the cleanest in the world. With an abundance of white sand and crystal-blue waters, this becomes quite the hotspot during the warmer seasons.
Whitsunday Islands National Park
Another vast and beachy national park is the Whitsunday Islands National Park, which is famous for being one of the nearest sites to the Great Barrier Reef. Divers who want to explore the iconic underwater ecosystem often go here to start their adventures. But apart from this, the park is also a stunning valley of white sands and green forests that are mostly untouched.
The are itself is relatively remote, with only a few boats passing through. Since not a lot of people go here, this becomes the perfect haven for a day of relaxing and meditating. You're less likely to be disturbed here than in other similar parks.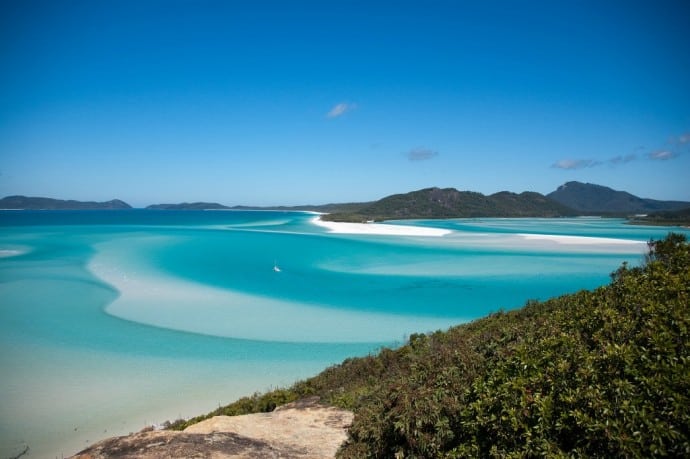 Uluru-Kata Tjuta National Park
Before the British took over the land of Australia, it was home to various aboriginal people. Today, many of their native lands are reserved for them to stay in safety live out their original culture. One such land is the Uluru-Kata Tjuta National Park, which is home to an amazing monolith.
This stunning rock formation is like nothing seen elsewhere and is said to hold massive importance to the aboriginal tribes that still live within the area. You can hike here if you want, provided you don't disturb the natives that stay here. And during the sunrise and sunset, the top of the monolith is the perfect place to watch them with your loved ones.
Daintree National Park
The name alone should tell you that this particular National Park is all about the lush greeneries. And here, they're as luscious as ever! Daintree National Park is arguably the greenest out of all the state parks on this list. In fact, it's said to be the oldest rainforest in the world, even older than that of the Amazon forest in Brazil.
Tall and lively trees stretch miles long, bordering the Great Barrier Reef. Since this is a state park, most of the plants here are well-maintained, helping evoke that vivid greenness that's become its most alluring feature. Not to mention the exotic wildlife, from the Daintree River Ringtail Possum to the Buff-Breasted Paradise Kingfisher!
Blue Mountains National Park Sydney
Blue Mountains National Park got its name from the high waterfalls. Almost all trials lead to the mile-high bodies of water that refresh all the stunning flora that surround it. But apart from this, the state park also contains a whole host of adventures for any luck visitor.
Here, you can go hiking, explore caves, go horseback riding, climb dangerous rocks, and more! There's also a history lesson to be had here, as you'd get to see ancient drawings and paintings of the aboriginals that once lived on the land centuries ago. These remnants of those times serve as reminders of the country's rich and exotic past.
Karijini National Park
Want to refresh yourself in a pool of cool water? Go to Karijini National Park and discover their array of mysterious, seductive, and secret pools of water. This canyon trail has led all sorts of adventurers to its finest bodies of water, where one can swim or simply dip in order to regenerate and relax.
You'd think you were in a fairytale world once you bathe in the gentle waterfalls and hidden pools. And if you want more adventure, this stunning area offers a park trail that's one of the most challenging hikes in all of Australia. You'd want to go back to the pools by the end of your hike!
Royal National Park
Another water-centric national park is the Royal National Park, one of the oldest state-maintained lands in the world. It's also said to be the second oldest national park ever, right after Yellowstone National Park in the United States of America.
If you're a lover of water, you'll enjoy swimming about in the area's sandy beaches, which consist of some of the clearest seaside waters in this part of the country. The river valleys are also a great place to splash around, with its cool and fresh waters surrounded by all sorts of forests, mountains, and other natural wonders.
Litchfield National Park
 A short drive away from Darwin city is Litchfield National Park, one of the most beautiful of its kind. You'll be treated to all sorts of stunning sceneries when you go here, from the tall waterfalls, green valleys, and vast open lands of natural wonders. Florence Falls is arguably its most famous feature, offering visitors a cool, quiet, and eye-pleasing area to just swim around and have fun.
Near the parking lot, you'll be able to see termite mounds, home fo the infamous wood-eating insects. These alone will tell you, even when you're not in the actual park yet, that this is a special place in nature.
Kakadu National Park
Similarly to Uluru-Kata Tjuta National Park, Kakadu National Park is also a haven for the country's aboriginal natives.  Here, they get to live out their traditional lives, away from the stressful hustles and bustles of the urban areas that now dominate the land "Down Under."
This is their special area wherein they get to celebrate all that is unique about their ancient culture, many of which you might get to see yourself. This includes their stunning rock art, which is second to none of its kind in the world, are truly a must to see in real life when you visit this state park.
Wilsons Promontory National Park
Perhaps the best part about the Wilsons Promontory National Park is that it's a relatively secluded area. It's not one that's frequented by tourists and local families. In fact, only the most adventurous travelers frequent this state park.
And if you're one of them, you get to enjoy this magnificent patch of land that's full of scenic landscapes and a beach wherein you get to swim in some of the bluest waters in this side of the world. You also might get to see animals that are unique to Australia, such as the adorable kangaroos and wombats that have since become some of the country's most famous icons.
Cradle Mountain National Park
Another extremely quiet National Park is the Cradle Mountain National Park. The name alone can already suggest that you'll have a peaceful adventure once you set foot here. One of their most famous features is Overland Track, a canyon trail that lets you explore the majority of the park.
Through the years, this particular trail has become so well-known that the national park itself has become part of the Tasmanian Wilderness World Heritage sites. But this is also due to the majestic sceneries it offers hikers, the quiet Dove Lake wherein many can have a relaxing dip, and an array of mountains you can climb!
When you do get to travel here, it's important that you don't damage the parks and ruin the fun for those who will be going after you. In order to avoid this, here are some important rules you should adhere to when you're in any of these state parks.
Don't Leave Trash Behind
Always respect Mother Nature! When you go to National Parks, you're likely to bring all sorts of food, drinks, and materials to make your stay much more enjoyable. Ad while this is allowed, you're discouraged to leave any trash behind. When you're setting up, look for a clear space so that your picnic won't disturb those the wildlife who live there.
And when you're done, make sure all of your trash and wastes are properly disposed of. If there aren't any trash bins in place near your picnic area, it' best to pack all your trash in one container so you can properly dispose of them when you leave the park.
Be Careful With The Wildlife
Always remember that when traveling to such National Parks, you're actually going into the homes of all sorts of wildlife. Before venturing into these sorts of places, already research online on what to do when you're suddenly faced with a wild animal. If staying still will help you avoid certain creatures, do it.
Sometimes, even playing dead might keep you safe from being attacked by a wild animal. In any case, don't let noise be your automatic answer (unless it's specified by your sources). This will only disturb the animals more and you're likely to be in more danger than you were before.
Don't Be Too Noisy
It can't be stressed enough that you shouldn't make too much noise when you're in a national park. Not only will you disturb the animals that live there, but you also might ruing the relaxing trip that other visitors would want to have when they're there.
Even when you think you've already reached a point where screaming or using your noisy gadgets won't be that much of a bother to anyone else, you risk getting the attention of all sorts of wild animals that are capable of killing you. The only time, however, that making noise is necessary is when you're trapped somewhere or you get lost along the way.
Travel In Groups
With regards to the last rule, it's always better to travel in groups. This is more of a cautionary tip rather than a strict rule to follow. You never know what kind of situation you might get into when traveling these National Parks.
If you're not careful or you don't have a map, you might get lost and not be found for days, possibly even weeks. But when you're traveling with a group, the chances of you getting lost or getting into trouble is considerably fewer. All of you will have an easier time getting help when things suddenly don't go your way!
Pace Yourself
When visiting these sorts of places, it's always important to pace yourself. Know your limits and try to stay within them for as much as you can. If you can only hike a certain number of miles long, stay within that number. If you're unable to climb cliffs and rocks, don't attempt doing so here.
And if you think you won't be able to swim in all of the lakes, springs, rivers, and such in these National Parks, there's no need to attempt it. Although you can still be adventurous, pacing yourself won't get you into any sort of trouble that you might have a difficult time recovering from.
Respect The Aboriginals
As mentioned earlier, some of these national parks house aboriginal communities, and in most areas of the country, these are the ones they're safest at. In this regard, be respectful to them whenever you encounter them.
Just because you think that your way of life is much more advanced than theirs doesn't give you the right to ridicule them or invade their privacy. The mere fact that you're even allowed to explore their native land is already a privilege given by them, and it's only fair that you extend the same courtesy by respecting them when you're there.
Australia is just one big land of adventures, even in their national parks. The next time you're going here, make sure you visit at least one or two of these amazing sites to experience the natural wonders of this unique territory.