Ireland is a seriously underrated country.
A lot of people might not realize just how beautiful and beguiling the island is. Many have even mistaken it as just another part of Great Britain, but both are separate countries with their own respective governments and cultures.
What makes Ireland such a fascinating place to visit is that it has equal parts of natural wonders and urban specialties. Humans might have made it into one of the most bustling metropolis countries in Europe, but there are still facets of the land that are untouched and are just as exquisite as Mother Nature intended.
Although the country is not as big as its neighboring powerhouses, it's definitely as beauty, maybe even more so. With so many sites to visit, it's easy to get overwhelmed and confused as to where to start. To help you out, here is a list of the best sites you must see in Ireland!
The Ring of Kerry
One of the most scenic sites you must see in Ireland is the famous "Ring of Kerry." Several people, both locals and tourists, travel this route just to see its amazing views. This seaside paradise boasts a number of islands you can hop around on, clear and white sandy beaches, and a stunning view of the Atlantic Ocean.
There's also a whole host of monasteries and forts that have their own interesting histories to tell. The Ring of Kerry is one of the Ireland attractions that you shouldn't miss during your visit here.
Trinity College
Time travel into 17th-century Ireland by visiting their famous Trinity College in the capital city of Dublin. Founded by the legendary Queen Elizabeth I herself, not much has changed in this university, architecture-wise.
Tall gates, cobblestone buildings, and magnificent sculptures are just some of the historic wonders you'll get to see in this visual feast of a school Subsequently, another of the most beloved Ireland tourist attractions can be found in Trinity College: the Book of Kells. Permanently displayed here, the ancient manuscript of Gospels is a sight to behold for many Christians, as well as non-believers alike!
Grafton Street
If you want to really get immersed with the local lifestyles in Ireland, head on over to Grafton street, situated at the heart of Dublin. One of the most interesting things to see in Ireland is how locals go about their daily lives, which you can examine up close in this bustling strip.
This is also the country's premier shopping haven, full of shops that sell all sorts of fascinating products. While some can get pricey, there are still those hidden games that can give you the best souvenirs for modest prices.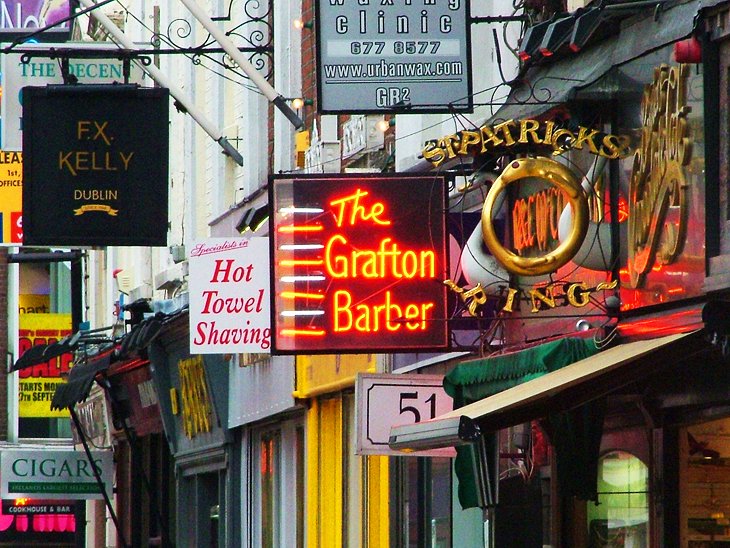 The Cliffs of Moher
Arguably the most famous of top attraction in Ireland's western side are the Cliffs of Moher. For about 5 long miles, these excruciatingly beautiful rock formations stand over 702 feet above sea level.
Standing on top of them gives you the most stunning view of the seas that you yourself must see in Ireland. The vast openness that you'll get to experience here is probably nothing that you'll ever witness anywhere else. Although it can get very chilly here as well, so make sure you layered up nice and toasty when you drop by the Cliff of Moher.
The Rock of Cashel
If you haven't noticed, Ireland attractions are usually very ancient and medieval, and none more so than the Rock of Cashel. If there ever was a perfect location to film a medieval-themed film in, this is certainly one of the best for the job.
The site consists of various buildings—castles, towers, cathedrals, and more—that are slightly ruined (due to time) but are still as spectacular as ever. The "Emerald Isle" is known for the preservation of such structures, so seeing the Rock of Cashel in the limestone should certainly be part of your Ireland bucket list.
Giant's Causeway
Ireland is no stranger to folktales, and in fact, a lot of their nature-bound sites have their own mystical tales of origin. One such is Giant's Causeway, a scenic coastline in Northern Ireland that's made up of approximately 40,000 basalt rock formations.
It's said that the coastline was formed to block a giant named Finn MacCool from entering the island. Whether you believe this tale or not, the site is still a must-see in Ireland as it's exceptionally stunning.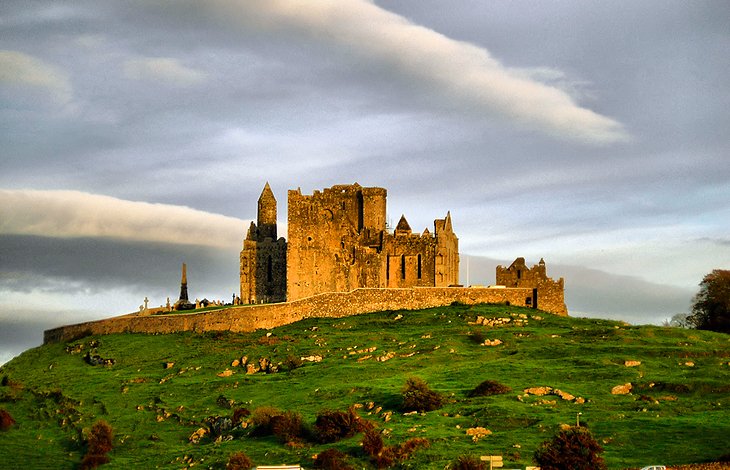 Aran Islands
The Aran Islands are some of the most fascinating things to see in Ireland as most of the lifestyles and cultures here are left unchanged. Similarly to Trinity College, entering these patches of land are like traveling to a time when life was simpler and more rustic.
Although electricity has since been incorporated in some of the areas here, the islands still remain historic at large. Not to mention the beautiful sceneries that you're treated to both to and from the island themselves.
Guinness Storehouse
Ireland sightseeing isn't complete without a trip to the Guinness Stockhouse. In fact, this site has been dubbed as Dublin's "most popular tourist attraction" for a very a long time. If you're a beer aficionado, this might as well be the highlight of your entire trip.
Guinness is arguably the most famous beer brand in all of Europe and here, you get to see how the drink is concocted and the history of the beverage through the years. And the best part? You get a complimentary pint of the good stuff at the Gravity Bar, situated at the top of the factory.
St. Patrick's Cathedral
Ireland is largely a Roman-Catholic country and it boasts numerous cathedrals that are as solemn as they are stunning. One such that you must see in Ireland is St. Patrick's Cathedral.
Built in the name of the country's most famous saint, it's the largest cathedral in all of Ireland, prompting many tourists, both believers and non-believers, to see it for themselves. The stunning gothic architecture has ben preserves since the building was built back in 1191 and masses are still held inside to this very day.
Titanic Belfast
When you've gone to all the historic buildings and natural sites of the country, you may come to a point where you don't know what to see in Ireland for the remainder of your trip. The best answer for such woes is to see "Titanic Belfast" a giant museum all about the famous cruise-line that sunk in the Atlantic Ocean.
It's even been named the Best Tourist Attraction in Europe" twice, both because of its massive beauty and vast amounts of information about the said tragedy.
Ireland is an exceptionally beautiful country that you should visit the next time you're in Europe. There are so many sites that you must see in Ireland, all of which are sure to be unforgettable!